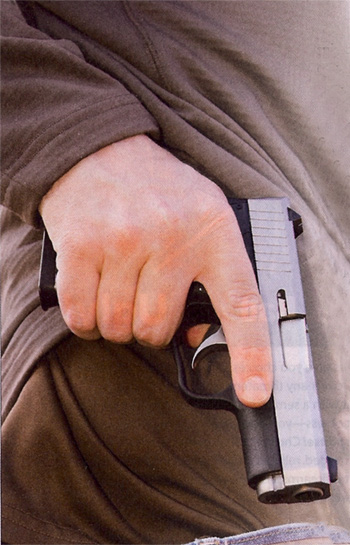 The proliferation of diminutive, high-quality .380 Auto pistols and new high-performance ammunition to match is a great thing for those who wish to go armed all of the time. Little pistols like the Ruger LCP, Kel-Tec P3AT, and Kahr P380 are easy to carry and conceal, and that means you will very likely have a firearm with you when you need it most. The only downside is that many will carry a .380 when they could and should be carrying a more substantial handgun in a more effective chambering. It is just too easy to slip that cute .380 in your pocket and go. Caveat emptor, friends; going into a fight armed with a .380 is a perilous endeavor.
Since 1994 Kahr has worked diligently to produce concealable handguns in duty-sized calibers. One of the firm's latest creations, the CW4543, meets and exceeds the goal to downsize into a supremely concealable package and keep the pistol affordable. In order to lower the price, the CW series dispenses with several features found on the KP series, most notably drift-adjustable front sights and polygonal rifling. There are also fewer slide machining steps, which results in an extra ounce or two of weight.
How do you squeeze a .45 ACP cartridge into a pistol that measures 4.8 inches high, 6.32 inches long, and only 1 inch thick? Clever engineering.
First engineers moved the feedramp left of center, allowing the frame's guts to move up. This decreases the frame's depth and moves the bore's axis closer to the firing hand. Kahr uses a strong nylon frame and 400-series stainless-steel magazine to decrease the grip circumference to nearly .40-caliber proportions. The CW4543 has one of the smallest—if not the smallest—.45-capable grips on the market.
The pistol is double action only (DAO), striker fired, and employs a Browning locked-breech, tilting-barrel design that is proven to say the least. A unique firing system—there are four patents associated with the trigger mechanism alone—utilizes a multi-lobed cam located at the frame's rear. The trigger bar rotates the cam, pushing up the firing-pin block with one lobe and fully cocking and releasing the striker with the other. My sample pistol had a beautiful, smooth, 5-pound, 4-ounce trigger pull.
The slide is machined from 300-series stainless steel bar stock and has rear cocking serrations. The 3.64-inch barrel is machined from 4140 stainless steel, nickel plated for improved corrosion resistance, and has conventional cut rifling.
Firing controls are simple—a smooth stainless-steel trigger and conventionally placed magazine release and slide stop. Some parts, including the slide stop, magazine catch, and firing-pin block, are metal-injection-molded to save a few bucks. The pistol comes with an owner's manual, one magazine, a polymer case, and a trigger lock.
Packed With Power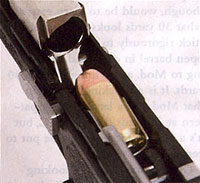 The offset feedramp is an innovation that allows other parts to move up in the frame and reduces the CW4543's frame depth.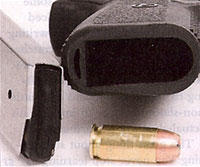 The pistol's nylon frame and steel magazine combine to reduce the frame size to a manageable circumference, even for smaller hands.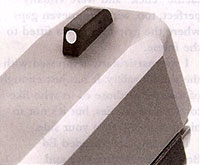 The CW4543 comes with a drift-adjustable, white-dot rear sight and a staked-in, white-dot front sight.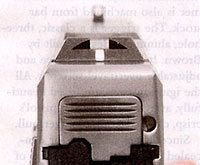 My previous experience with mini .45s, namely Glock 36s and 3-inch 1911s, always found that 185- and 200-grain loads produced significantly less recoil and were more controllable than the gold standard 230-grain loads so often carried in full-sized .45 ACP pistols. They have the added, obvious benefit of producing higher velocities—a plus when fired from barrels half the length of those in full-size guns. But there is always a compromise, and the toll paid is in penetration. Bigger bullets with higher sectional densities, though slower, retain more energy and penetrate farther. In terms of quick follow-up shots and controllability, it is a price I am willing to pay.
Several range sessions proved the CW4543 will demand serious practice from experienced shooters and is probably too much for the beginner. Sending 230-grain bullets downrange from a 19.7-ounce pistol produces snappy, though not uncontrollable, recoil. I put the gun in the hands of several other shooters for input and often saw it wrench itself free from the supporting hand when fired.
Once they knew what to expect, everyone shot the little pistol well. Groups were excellent from the bench, and the little pistol is quick on target. Controlled pairs are a little exciting, but they're doable with practice. There were only two malfunctions during the pistol's 200-round break-in period. The gun has been flawless post break in, swallowing over 400 rounds without a bobble.
The only two knocks against the CW4543 are these: The slide stop is sharp and needs to be dehorned, something the adventurous home gunsmith could do with the right file. And the polymer front sight is staked in place, and there is no retrofit night sight available. Kahr sales manager Frank Harris said the company is collaborating with Meprolite to soon remedy this shortcoming. Until they do, the current sights seriously limit the pistol because most armed encounters occur at night or in the dark.
The CW4543 is so small and handles so well, there are few instances where a smaller .380 Auto holds an advantage—very few instances. In some regards, the pistol is more carry friendly and certainly more shooter friendly, offering a longer sight radius and more grip to grab during stressful presentations. Once due diligence is paid in the form of serious practice, the pistol would make an exceptional carry gun.
Kahr CW4543 Accuracy
Â
25-Yard Accuracy
Factory Load
Group #1
Group #2
Group #3
Group #4
Group #5
Average
Georgia Arms 185-gr. Gold Dot
2.89"
3.44"
3.21"
3.00"
3.09"
3.13"
Remington 230-gr. Golden Saber
3.87"
4.00"
3.44"
3.79"
3.40"
3.70"
Winchester 230-gr. FMJ
3.12"
3.66"
3.97"
3.63"
3.69"
3.61"
NOTES: Accuracy is for five-shot groups fired from a sandbag benchrest. Ambient temperature was 89 degrees Fahrenheit.
Previous Page